Hal Bidlack, Ph.D.
as
 Alexander Hamilton
Enjoy a spontaneous and un-scripted presentation
by a historical impersonator and scholar
A Chautauqua Performance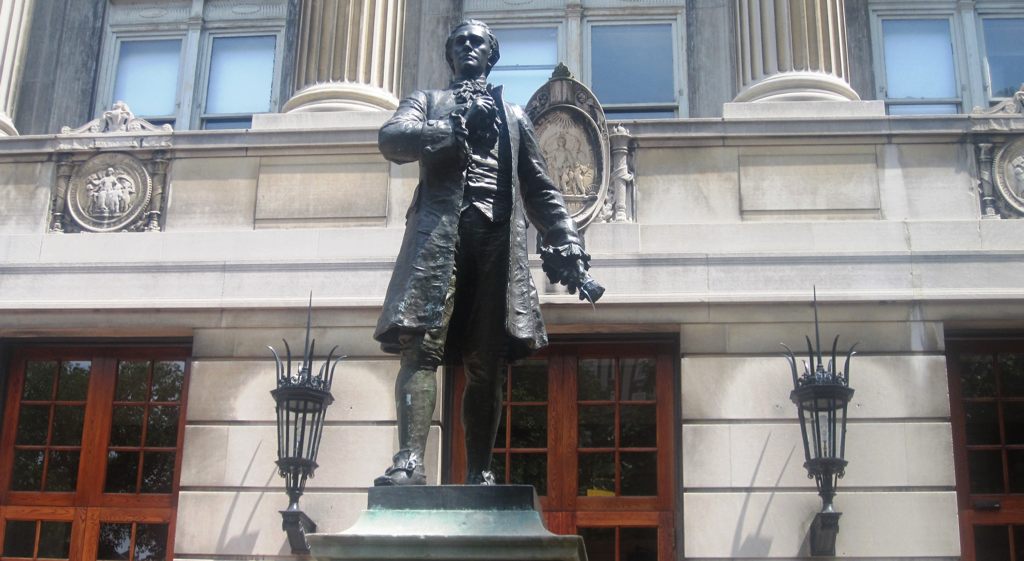 Bring History to Life!
Alexander Hamilton was one of the most important of the Founding Fathers, perhaps second only to General Washington. While Mr. Jefferson wrote the brilliant Declaration of Independence, it was Mr. Hamilton whose vision and spirit continue to dominate the American culture and economy today. Our nation owes a debt to the good Mr. Hamilton that is as deep today as it was 200 years ago.
A presentation by Hal Bidlack will bring Hamilton alive for the audience, providing a very real sense of the history of our nation's founding.  His portrayal captures the intellect, wit, humor, and humanity of this important historical figure.
Presented in the Chautauqua style of scholarship and education, audiences come to believe they are in the presence of a Founding Father.  Almost immediately, they are drawn into the moment and ask questions, listen to answers, and ponder the great and small questions of America's birth.
Hal Bidlack portrays Alexander Hamilton in costume and in character.
Click on Booking Hamilton  for information on how to book an appearance for your organization, company, non-profit, school, or other.
What is the Chautauqua Method?
The Chautauqua Method (pronounced "sha-talk-wa") has a long and proud history. Originating in New England, the movement was originally largely an educational enterprise, with traveling lecturers. Performances and lectures were often given in large tents, with citizens from miles around coming for an evening of education and enlightenment.
The Chautauqua Method divides the performance into three phases. First, Hal will appear before the group in costume in the persona of Alexander Hamilton.  He will begin by speaking for 5-25 minutes (depending on the group) outlining Hamilton's vision of America.  His remarks will be tailored to type of audience and the event.  Following this portion, he opens the floor to any questions the audience may wish to ask.  These questions can focus on the time period in which Hamilton lived, or may ask a more modern question.  Should the question ask about the present day, Hal will use his knowledge of Hamilton to craft a reply grounded in Hamiltonian reasoning.  This question period can last any desired length up to perhaps 1 1/2 hours.  Following the last question the final portion of the Chautauqua begins, with Hal breaking character and answering questions as a scholar and political scientist.  These questions are also unscripted.
Modern Chautauqua is a blending of impersonation with scholarship recently brought to near-perfection by the great Jefferson scholar, Clay Jenkinson. Clay is the acknowledged master of Chautauqua. As a pupil of Clay's, Hal continues working to improve his Hamilton, and enjoys the opportunity to perform him for a variety of audiences.
Satisfied Customers Include:

The Smithsonian Institution
TennesseeHigh Plains Chautauqua
The Lake Tahoe Shakespeare Festival
The National Museum of American History
The Kennedy Center Imagination Celebration
The Pennsylvania Association of Court Management
The Minnesota Humanities Commission
The Colorado Endowment for the Humanities
The Louisville Free Public Library System
Eskridge & Associates
The Museum of World Treasures
The James Madison Teachers Seminar
First Western Trust of Jackson Hole, Wy
Arapahoe County Library District
The Canon City Library
Pikes Peak Library District
The Just The Beginning Foundation
The United States Air Force Academy
The William Clements Library — University of Michigan
American Foreign Service Officers Association
Great Basin Chautauqua
Nevada Humanities Committee
Glen Eyrie Conference Center
The Cheyenne Mountain Heritage Center
Greenhill School — Dallas, Texas
Parker Colorado Public Schools
The National Defense Industrial Association — San Diego Chapter
Fremont County Government, Colorado
The Exchange Club of Colorado Springs
Cheyenne Mountain High School
Limon Heritage Society
Michigan Court Administration Association
Boulder City Nevada Chautauqua Festival
Lake Tahoe Chautauqua Festival
Colorado State Capitol Organization
The James Randi Educational Foundation
Michigan Judicial Institute
Michigan Association of Circuit Court Administrators
Hamilton College, Clinton NY
Mid-Atlantic Association for Court Management
Big Arts on Stage, Sanibel, FL
Hamilton College Alumni Association
The Florida Bar
Bethel College
The Classical Academy, Colorado
The State Library of Ohio
Virginia District Court Clerks
Terlanto Wines International