Resources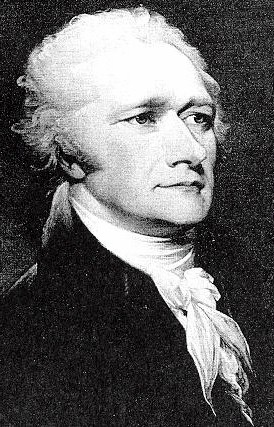 A Few Interesting Web Sites:
A Biography of Alexander Hamilton
An excellent site with many pages on Hamilton's life story
These documents are valuable for two main reasons. First, they are the stuff of revolution, with their goal being nothing less than the creation of a new kind of government, unlike any seen before. Secondly, they offer a porthole to the past. They let us explore the "founder's intent" you hear so much about. Here you find Hamilton's take on judicial review (78) and on impeachment (65). Madison's towering work on the dangers of factions (10), what we would call interest groups today. They can be difficult to read, but if you struggle through them, you will be better able to walk in the shoes of our Founders.
Interpreting Thomas Jefferson by Clay Jenkinson
Clay is the foremost historical interpreter in the nation, and his performance of Thomas Jefferson is both magical and educational. Hal and Clay particularly enjoy working together and verbally jousting as Hamilton and Jefferson on the Founding Period
Selected Books: ​​​​​​​
Washington and Hamilton: The Alliance that Forged America by Stephen F. Knott and Tony Williams. Sourcebooks, Inc., 2015. ISBN-10: 1492609838 ISBN-13: 978-1492609834

A very good and very readable book that explains the importance of the deep personal, as well as intellectual, connection between Washington and Hamilton. To truly understand the Founding period you need to read this book.
Alexander Hamilton

by Ron

Chernow

, Penguin Books 2004. ISBN: 1594200092

Simply the standard for Hamilton books.

Chernow's

superb book is the best researched text on Hamilton yet, and contains details, insights, and analysis unmatched in earlier works. My highest recommendation.
Alexander Hamilton, American

by Richard

Brookhiser

,

The

Free Press, 1999. ISBN 0-684-83919-9
Alexander Hamilton: A Concise Biography

by Broadus Mitchell, Barnes and Noble, Inc., 1999, ISBN 0-7607-1703-6

The late Professor Mitchell wrote this one volume version of his two-volume history of Mr. Hamilton. Mitchell's book covers Hamilton's early life in far more detail than other biographies, and is well-written and easy to read.
Selected Writings and Speeches of Alexander Hamilton

, edited by Morton J. Frisch. American Enterprise Institute for Public Policy Research, 1985, ISBN 0-8447-3551-5
Affairs of Honor: National Politics in the New Republic

, by Joanne B. Freeman. Yale University Press, New Haven and London, 2001. ISBN 0-300-08877-9

A terrific book by one of the nation's best Hamilton scholars, Freeman examines how concepts of honor helped shape the Founding Period. Chapters examine newspapers, political gossip, dueling, and more.
Madison's Hand: Revising the Constitutional Convention by Mary Sarah Bilder. Harvard University Press, 2015. ISBN 9780674055278

A new book that explores Madison's revising (correcting?) his historical account of the Constitutional Convention to make his notes appear more prescient, and which appears to diminish and to some degree demonize Alexander Hamilton.
Any edition of the Federalist Papers
The Age of Federalism

: The Early Republic, 1788-1800 by Stanley Elkins and Eric

McKitrick

, Oxford University Press, 1993. ISBN 0-19-506890-4